Published first on http://muchadoabtshakespeare.blogspot.com/
Saturday, 10 August 2013
It's been a year since I started officially working on my PhD. When I tell people that I'm a full time research student, they usually either react with awe ("Really? A PhD? I think you're really brave!") or they're very sympathetic ("Oh poor you! I would hate to be pouring all that hard work into what maybe 3 people in the world will ever read, not counting your parents, of course!"). However, the reaction I usually wait for is the one that I invariably get when I tell them my thesis subject…and yes I hear a muted drum roll in my head when I sheepishly and often apologetically announce my working title "The influence of Shakespeare on Bollywood" (Because really, how many people get the chance to actually work on a topic as cool as that?) And that's when the eyes widen, the sympathy turns into envy, and the polite interest turns into avid curiosity with almost complete strangers suddenly interested in reading what I'm working on.

Once the double takes are done and I've shattered some of the stereotypes that people often associate PhD students with, the most frequent question I'm asked is: "So is there an influence of Shakespeare on Bollywood?" I suspect several people who have asked me that question have lived to regret it, but one of my friends suggested I should blog about the topic. So I decided I would – to balance out the research-student-like heavily academic writing that I usually have to do on the topic.
When we think of Shakespeare in Bollywood we automatically think of the handful of movies commonly held to be Shakespearean adaptations – Gulzar's Angoor [Grapes] (1982), Bhardwaj's Maqbool (2003) and Omkara (2006) and Manish Tiwary's Issaq [Love] (2013). Some others would remember Shakespeare related movies such as Merchant-Ivory's Shakespeare Wallah (1965), Aparna Sen's 36 Chowringhee Lane (1981) or Rituparno Ghosh's The Last Lear (2007). Avid cineastes would recall that the Parsi theater tradition which heavily influenced Bombay cinema was one of the main agencies through which Shakespeare entered into popular culture in India. Some would also recognise the stock themes of Hindi cinema which originate in Shakespeare – all the movies about twins separated at birth, star crossed lovers, and of taming the shrewish wives (or mother-in-laws). Plot devices like cross dressing from Shakespearean comedies or the popular mouse trap device from Hamlet have also been used in Bollywood.
Even more interesting to me are the subtle and often unnoticed references to Shakespeare embedded in several films. Deewar [The wall] (1975) is one such case in point – where the mother disapproves of her son's nefarious doings and tells him that "all the water in the world cannot wash your hands clean of your sins". Another example is in Dil Chahta Hain [My heart wants] (2001) during the song "Jaane kyu log pyar karte hain" [I wonder why people fall in love]. While Preity Zinta stands on scree left, we see a boat on screen right named 'Much Ado'.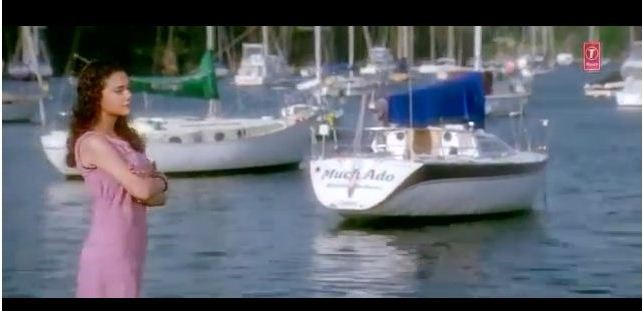 So to answer the question – yes Shakespeare and Bollywood have had a long and eventful relationship, one that is set to become even stronger with two versions of The Comedy of Errors, three versions of Hamlet (including one by Bhardwaj and one rumoured to star Hrithik Roshan), Ram Leela Bhansali's version of Romeo and Juliet to keep company with Manish Tiwary's just released version titled Issaq to make their appearances within the next couple of years.
Therefore, if the subject interests you…watch this space! This is just the beginning.